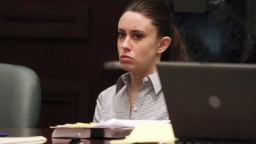 In July 2008, police in Orange County, Florida, received a call that led to one of America's most high-profile criminal cases: the disappearance and death of 2-year-old Caylee Anthony, and the question of whether her mother, Casey Anthony (pictured), was involved.
Before the trial: Casey Anthony gave birth to her daughter, Caylee Anthony (pictured here), on August 9, 2005, when she was 19 years old. The identity of Caylee's father hasn't been publicly identified.
July 15, 2008: Just a few weeks before Caylee's third birthday, Casey's mother, Cindy Anthony, called police in their hometown of Orlando. Cindy said her daughter and granddaughter had been missing for a month — and while she'd located her daughter, her granddaughter was nowhere to be found.
July 16, 2008: At first, Casey Anthony told police that she believed her nanny had her 2-year-old daughter, and that she'd been searching for her. Police quickly determined that there wasn't a nanny involved and that Casey's story about the last time her daughter was seen was false. Casey, 22, was arrested and charged with child neglect.
July 2008: As police investigated Caylee's disappearance, a key piece of evidence comes into play: Casey's Pontiac Sunfire. When Casey's mother called police to report Caylee missing, she noted that Casey's car smelled like "there had been a dead body" in it. Days later at Casey's bond hearing, a deputy testified that a cadaver dog trained to picked up the scent of human decomposition alerted him to the trunk of the car.
October 2008: Raising additional questions for police was Casey's behavior during the time she said her daughter was missing. Authorities described Casey as continuing to hang out with friends, partying — and getting this tattoo, which means "Beautiful Life." On October 14, three months after Caylee was reported missing, Casey was indicted by a grand jury on capital murder and other charges. She pleaded not guilty.
December 2008: Many people, both locally and nationally, followed the case and searched for Caylee. On December 11, skeletal remains were found in a wooded area near the Anthony home by a utility worker. On December 19, authorities announced the remains had been identified as Caylee. Pictured here is a memorial for Caylee where the 2-year-old's remains were found.
May 2011: With prosecutors deciding to pursue the death penalty, jury selection began in the Casey Anthony trial on May 9, 2011. Spectators in the courthouse are pictured here as they wait for the trial's first day to begin on May 24, 2011.
May 2011: Jose Baez, lead defense counsel for Casey Anthony, presented a different story during his opening remarks: he said Caylee Anthony was not murdered and was never missing. Baez stated she died on June 16, 2008, from an accidental drowning in the Anthony family's backyard pool.
June 2011: During the trial, the prosecution alleged that Casey used chloroform on her daughter and suffocated her by putting duct tape over the little girl's mouth and nose. They also alleged that Casey put her daughter's body in her car trunk before disposing of it.
June 2011: Forensics expert Arpad Vass testified on June 6 that the only plausible explanation for the odor in Casey's car trunk would be the presence of a decomposing human body. Pictured here is an evidence photo of trash found in the trunk.
June 2011: During his testimony, Casey's father, George Anthony, denied the defense's claims that he sexually abused his daughter and that he was involved in his granddaughter's death.
June 2011: Casey's mother, Cindy, also took the stand. Here, she's seen reacting to a photo of Caylee on a monitor during her testimony on June 14, 2011, day 18 of the trial.
June 2011: Judge Belvin Perry looks at evidence as it's presented during the trial.
June 2011: Jennifer Welch, a crime scene investigator with the Orange County Sheriff's Office, shows letters from Caylee's T-shirt that were entered into evidence.
June 30, 2011: By the end of June 2011, both the prosecution and the defense had rested their cases. Casey Anthony never testified.
July 5, 2011: The trial's jury deliberated for 10 hours and 40 minutes before reaching a verdict. Casey was found not guilty of first-degree murder, aggravated child abuse and aggravated manslaughter of a child. She was found guilty of four misdemeanor counts of providing false information to law enforcement.
July 5, 2011: Casey Anthony's defense team surrounded her in a group hug after the then-25-year-old was acquitted.
July 2011: The not-guilty charge divided many people who followed the case. Flora Reece, center, of Orlando is seen protesting the verdict outside the Orange County Courthouse.
July 2011: Others, such as Tim Allen, right, and David Antolic, held signs of a different tone in front of a jail in Orlando on July 16, 2011, the day before Anthony was released.
July 17, 2011: Casey was sentenced to four years in jail with credit for time served. On July 17, she was released; here, she's seen leaving the Booking and Release Center at the Orange County Jail with her lawyer, Jose Baez.